NAV5007 5.0inch Auto / Portable GPS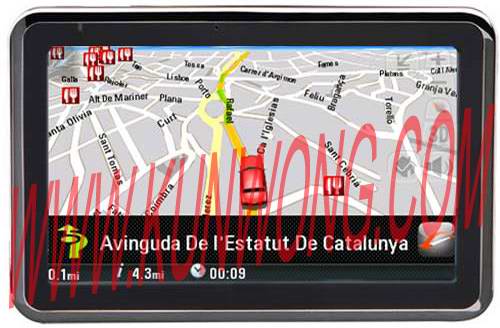 SPECIFICATION:
1. 5.0inch Touch TFT LCD Panel (480 X 272 pixels)
2. Optional CPU and Matching Info:
SiSiS A8 ARM9 (300MHz CPU), Matching COM 4, Baud Rate 4800
Sirf Atlas IV AT840 (533MHz CPU), Matching COM 1, Baud Rate 9600
Sirf Atlas V AT850 (600MHz CPU), Matching COM 1, Baud Rate 9600
3. Support GPS Module 20 Channels, NXP Glonav GNS4540
4. Windows CE6.0
5. 64MB DDR RAM / 128MB DDR2 RAM
6. Internal Memory: Support ROM Flash Max4GB (Optional)
7. External Memory: Micro SD card Max8GB (Optional)
8. 3.7V Rechargeable Battery;
9. 1W 8ohm Build-in Speaker
10. Video: ASF/AVI/MP4/3GP/WMV;
11. Audio: MP3/WMA/WAV
12. TXT E-book / PDF Reader
13. Photo Browser: JPEG/BMP/GIF/PNG
14. Multi OSD Language (Optional)
15. Mini Game (Optional)
16. Navigation Software and Map data(Optional)
17. Optional Function:
17.1 Bluetooth for support hand free phone
17.2 Bluetooth with DUN (Support GPRS),
17.3 FM Transmission
17.4 AVIn, Audio and Video Input
17.5 External TMC, Traffic Message Centre
17.6 Internal TMC, Traffic Message Centre
17.7 CMMB / DVB-T / ATSC / ISDB-T Digital TV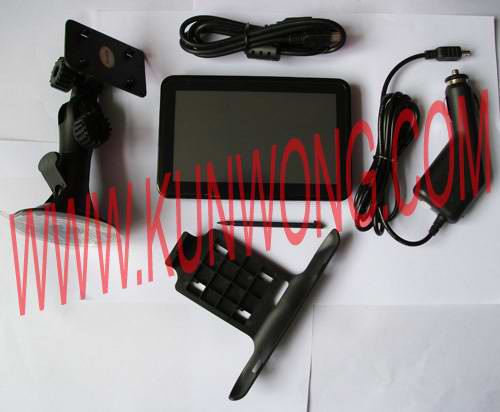 Standard Accessory:
Car Charger; GPS Cradle; GPS Bracket; USB Cable; Touch Pen; Gift Box; Manual.
Optional Accessory:
AC Adaptor; AV-In Cable; Earphone; Pouch; CD Disk; Customize Packing Material.
Packing Specification:
1. Unit Box: L(155mm) X W(135mm) X H(102mm)
2. Carton: 20pcs/11.0Kgs/0.40CBM as per carton